Best Power bank under 500 Rs in India
Looking for budget Power bank under 500 Rs?... Here we have provided with best power bank available in India under 500 rupees.
Buying Guide: How to choose power bank?
So what are things one should check before buying a power bank?
Capacity: First thing is the capacity of the power bank. That is mentioned in mAh unit. For instance, if your device has a 4000mAh battery capacity, buy a power bank with at least 4500mAh. If you purchase one with 2000mAh, you can only charge up to 50%.
Power bank output power: How quickly your phone will charge, is depends on two factors, One is output power from the power bank and the 2nd one is your mobile. You may notice that smartphone takes a longer time to charge as compared to when a wall charger is used. This is because your phone is able to accept a higher current. Many recent Android smartphones accept up to 2A current. Better to buy power bank with multiple ports, one with 1A and other with higher capacity like 2A.
There some other factors like type of cell used, input current drawing capacity of the power bank, size of the power bank etc, but above two are the important factors. Power banks under 500rs will come with a lesser capacity of below 3000mAh.
List of power banks under 500 Rs.
1) Intex IT-PBB2K or Intex IT-PBA2K/IT-PB2K 2000mAh power bank

| | |
| --- | --- |
| Sales Package | Power Bank, Data Cable |
| Suitable Device | Mobile |
| Charging Cable Included | Yes |
| Power Supply | AC-100 5V(1A) |
| Output Power | 5V(1A) |
| Other Features | USB ports 1 nos |
| Width | 2.5 mm |
| Height | 11.5 mm |
| Depth | 7.5 mm |
| Weight | 120 g |
| Warranty Summary | 1 Year Intex Technologies India Warranty |
2) Ambrane P-26 2600 mAh Power Bank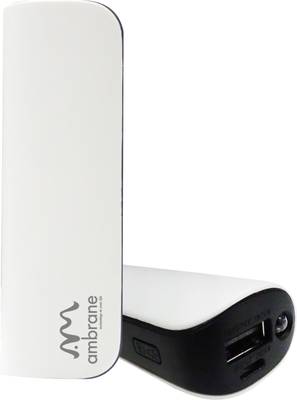 | | |
| --- | --- |
| Sales Package | Power Bank, Data Cable |
| Suitable Device | Mobile |
| Charging Cable Included | Yes |
| Power Supply | AC-100 5V(1A) |
| Output Power | 5V(1A) |
| Other Features | USB ports 1 nos |
| Width | 2.5 mm |
| Height | 11.5 mm |
| Depth | 7.5 mm |
| Weight | 120 g |
| Warranty Summary | 1 Year Intex Technologies India Warranty |