Best power bank with 20000mah capacity in India
Today we are so much dependent on our smartphones, we need a phone on every aspect of our life. The power bank is one of our smartphone companions, that too if we are travelling we need to carry a good power bank. Here is our list of the best power bank 20000mah in India - September 2017.
1) Mi Power Bank 2 (Mi PLM05ZM) 20000 mAh Power Bank

Lithium polymer battery makes it more durable and optimises charging efficiency

Experience ultra-fast charging Quick Charge 3.0 support when charging one device or 5.1V/3.6A support when charging two devices at once

20000mAH Mi power bank 2 plays well with others, including devices from Mi, Apple, Samsung and more

Dual USB output and it can also charge some USB-C laptops

Superior hand feel and overall quality improvements are achieved with the usage of high quality, PC + ABS and the perforated exterior provides a comfortable yet scratch and slip resistant hold

Scratch and Slip-resistant due to usage of high-quality PC+ABS material

6 months warranty
2) COOLNUT CMPBSUN-27 20000mAh Rubber Coated Power Bank
Capacity: 20000mAh Best Power Bank

Lithium-ion Battery

Premium quality silicon rubber coating shell case finished on durable ABS+PC offers great elegance. Anti-slip and perfect grip feel always

Stylish Design with Smooth Curves, Safe and Intelligent Charging Mechanism

Warranty: 1 Year manufacturer warranty on Power Bank and 6 Month manufacturer warranty on Accessories from the date of purchase.
3) Flipkart SmartBuy 20000 mAh power bank (Grey, Lithium Polymer)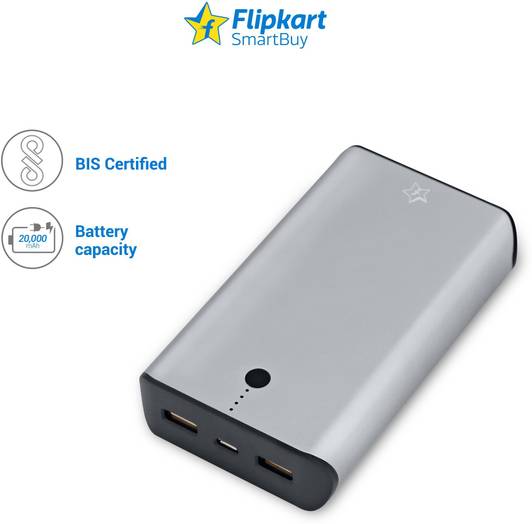 Weighs 425 g | Capacity: 20000 mAh
Lithium Polymer Battery
Output Power: 5.0V DC, 2.1A (Max)