Best wireless mouse under 500 Rs in India
Looking for the best wireless mouse under 500 Rs. ? let me start with some of the basic features what you to have to see in the mouse before buying.
First thing is the mouse precision, these are given in DPI - Dots per Inch is a measurement of how sensitive a mouse is. The higher a mouse's DPI, the farther the cursor on your screen will move when you move the mouse.
The second thing I suggest is to see its weight and dimensions. Including AA cell in my opinion mouse should have nearly 100-130gm so that while using no need put pressure from your hand. And the dimension depends on the size of the hand. If children are going to use the mouse then buy a smaller one or else buy medium to large.
Small/Medium: 2.75-3.75 inches (7.0-9.5 cm)
Large: 3.76-4.75 inches (9.5-12.0 cm)
Also, check out the list of best wireless mouse under 1000 Rs
1) Logitech B170 Wireless Mouse
Logitech B170 Wireless Mouse - Key features
10m Wireless range
1000 dpi precision
95gram weight
9.8 x 6.2 x 3.5 cm dimension
2) Gofreetech GFT-M001 Wireless Mouse
Gofreetech GFT-M001 - Key Features
2.4G wireless connection
10 meters range
3 switchable DPI 800/1200/1600
168 gm weight
20.7 x 12.5 x 4.6 cm dimension
3) Enter E-W55 Wireless Mouse
Enter E-W55 mouse - Key feature
1600 DPI Precision
30.5 x 9.7 x 2.5 cm dimension
100gm weight
100-meter range
2.4 GHz wireless technology
4) Quantum QHM262W Wireless Mouse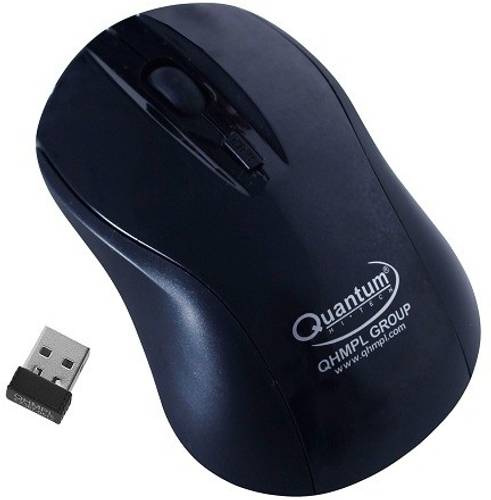 Quantum QHM262W Wireless Mouse - Key Feature
1600 DPI precision
2.4 GHz Wireless Frequency
10-meter Range
2 AAA Batteries
150 gm weight
65 x 35 x 95 mm dimension
These are the mouse I found it better under 500 Rs. Feel free to correct me if I'm doing wrong anywhere, even if you found any better product add it in the comment so that I can update my post.